About Me
Jorge Flores-Sanchez, AKA NINA FLOWERS brings a triple threat of talent to venues across the globe.  As a DJ and Producer he brings an infectious understanding of how to bring music alive on the dance floor.  As Nina Flowers she brings a powerfully engaging connection to audiences.  As a makeup artist he has skills that can't be matched by none.  As an artist he continues to amaze his fans worldwide.
Jorge was born in the city of Bayamon, Puerto Rico.  He started his career as a DJ in his teens.  He began his practice in the art of female impersonation in 1993.  Later he combined these two skills showing an intense passion for music.   His connection to the art form of makeup brought him the ability to create unique characters on the stage.
"The lights, the music, the stage, and the crowd – putting it all together – magic in the making" – Nina Flowers
Nina Flowers made her debut on National television in 2009 on the first edition of RuPaul's Drag Race,  followed in 2011 with an appearance on RuPaul's Drag U.  Later in 2013, as a fan favorite she returned by appearing on the cast of RuPaul's Drag Race All Stars.  As an entertainer she continues to display talent, charisma, creativity and most importantly humbleness, with a wide fan base.
Today DJ Flowers holds residencies in several cities such as, Denver, CO; Boston, MA; Tampa, FL; San Francisco, and staring 2014 Pomona, CA.   He also holds a residency within the major circuit party scene for MATINEE North America.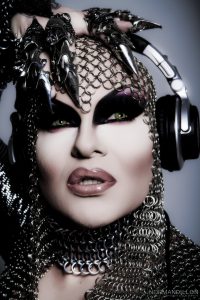 In the musical industry he has collaborated with some of the most talented DJs and producers, creating a number of club anthems, such as "LOCA" produced by DJ
Ranny;  "I'M FEELING FLOWERS," "BAILAR," "THE QUEENS," produced by DJ MDW; "START YOUR ENGINES," "TIPS," and "ROCK THE BEAT" produced by DJ William Umana.  All can be acquired through ITunes and www.beatport.com.  He is currently working on two new singles, "CAFRE" produced by DJ Cindel and "CHOCHA" produced by DJ Ranny.
To keep up with DJ Flowers body of work, you can also visit www.soundcloud.com/nina-flowers and for merchandise and upcoming events with Nina Flowers visit www.ninaflowers.com, www.facebook.com/ninaflowersfans or www.facebook.com/djflowersfans.    You can reach Nina on twitter at www.twitter.com/djninaflowers.